ABOUT DR. KAWEBLUM
Dr. Kaweblum has been a pediatrician since 1980.
He is the father of three children and grandfather of four.
Born and raised in Mexico City, Dr. Kaweblum moved to the USA in 1983, where he completed his pediatric residency at the University of Miami.
Together with his wife Yvette, Dr. Kaweblum founded the Boca Del Mar Pediatric and Adolescent Center in 1989.
Dr. Kaweblum has been recognized as a Top South Florida pediatrician as well as a Florida Super Doctor numerous times during the course of his practice.
He has earned recognition for excellence in pediatrics many times by Castle Connolly,
best of Boca Raton Awards for Pediatrician on 2014, Top Doctor on 2015, Top Doctor on 2016 and a guest of the medical faculty at the Florida Atlantic University school of medicine.
Now available on amazon.com, e-books and other bookstores
DR. KAWEBLUM'S BOOK:
CRYSTOPPERS - A PLAY BY PLAY GUIDE FOR WISE PARENTING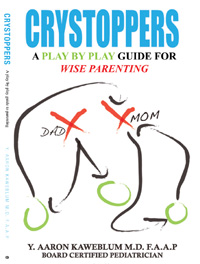 As a pediatrician I have noticed that over the last two decades, parents have forgotten what it means to make the right decisions for the well being of their children.
Modern parents think that if their child cries, they must immediately do something to stop it, regardless of the effects of doing so.
As a result, children in our society have become misbehaved, obese, and socially incapable of adapting to the demands of the adult world.
From the first few weeks of life and into adulthood, it is your responsibility to create a healthful environment for your children. That requires perseverence in spite of their persistent requests for unhealthy foods, endless toys and a free pass on behavior. It requires a commitment to recognizing the long term effects of constantly giving in to whining and temper tantrums, to permitting aggressive behavior and complying in the face of guilt and blackmail.
Crystoppers offers a practical guide to assist parents in making wise, well-informed, healthful decisions for their children.
Dr. Kaweblum performs circumcisions.
Dr. Kaweblum has published articles in pediatric and urological journals regarding circumcisions.
He is licensed to use local anesthesia to perform circumcisions. Several scientific studies demonstrated beyond any doubt that the baby, like any human being, experiences a great amount of pain when circumcised without local anesthesia.
Therefore, the American Academy of Pediatrics and even great Rabbis consider unacceptable to do this Surgical procedure without the use of a local anesthetic. Studies have shown that topical creams or sprays are completely useless, and some like the EMLA cream have the potential of causing serious complications.